WildGold's Sampson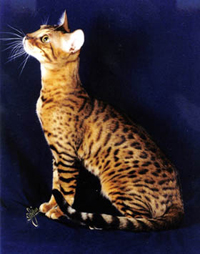 RW Supreme Grand Champion
Calcatta Sampson of Wildgold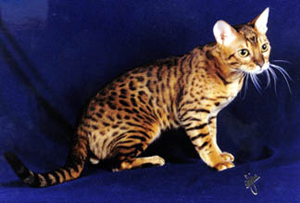 Sampson
is a Brown Spotted Tabby. He was bred by Chris Dahleen of
Calcatta
. His mother is Soleil and his father is RW SGC ElitebengalsTapout. He is a third generation Supreme Grand Champion and he is the 16th Best Cat in the Southwest Region for the year 2004-2005. We know Sampson carries for Seal Lynx. He is homozygeous for spotting. He has tested negative for HCM for 7 years.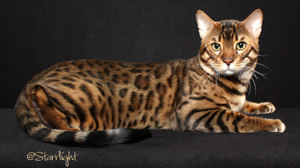 RW Supreme Grand Champion
Wildgold Adonis
(Pedigree)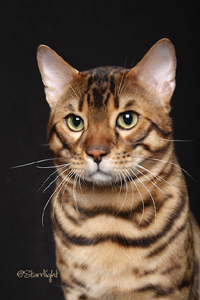 Adonis
is a Brown Spotted Tabby. He is co-owned by Chris Dahleen of
Calcatta
. His mother is RW SGC Wildgold Taygete and his father is GCH Calcatta Supernatural. He was Best Bengal in the Southwest Region, 4th Best Cat, 3rd best Shorthair cat, 4th Best bengal Internationally in the show season 2010-2011. He carries for Seal Lynx point. Adonis has tested negative for HCM on 2 screenings. His last screening was June 2011.
............