Available Bengal Kittens and Cats
All of the cats and kittens at Wildgold Bengals are raised on a species appropriate diet of raw foods and some canned foods. Please see our
Diet instructions and tips
. We have found that the vet bills are lower and your kitten will lead a much healthier life.
Our goal is to place our kittens in responsible loving homes that best furnish the kitten's life long needs. If you are a fit and are interested, please contact us at 562 972-1211 or
email us.
--Thank you for considering WildGold Bengals.
** Kitten **
Born Born July 14, 2016
- female
Female Brown spotted kitten for sale out of Calliope and Dreamland Da Vinci. - Very sweet.
Available as a Show cat or a Pet.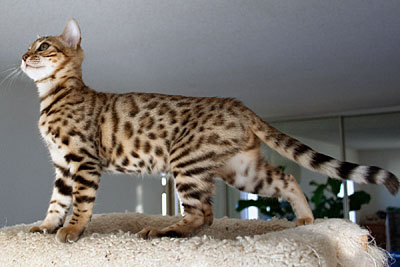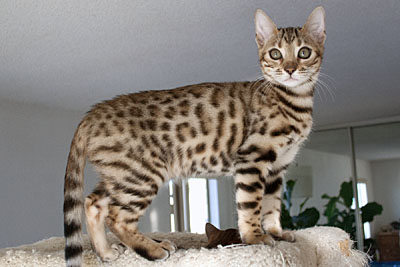 ** Young Adults**
Born November 29, 2013
- 2 females available
Sire is Sampson and Mom is Taygete. 2 female kittens. Very sweet. One Seal Lynx Point (Sally) and one Brown Spotted (Bree). Available together or each separate. They eat canned or raw food. They are spayed, Microchipped and Vaccinated. They are both very shy of strangers but will warm up to be very loving cats. They both love to play fetch or run on a cat wheel. They love attention. I have shown them a bit. Sally is a Grand Champion Alter and Bree is a Champion Alter. They are very reasonably priced. Please email for more info.