WildGold Bengals

WildGold Bengals is a small cattery located in Southern California. All of our Kittens and Cats are raised under foot and have wonderful temperaments. They are TICA registered and microchipped. Our breeders are screened for Hypertrophic Cardiomyopathy (HCM) and PK-Deficiency.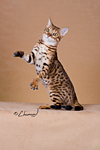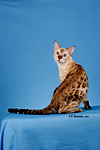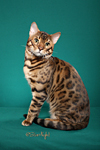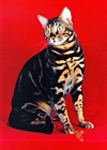 A Bengal cat is an athletic animal, alert to its surroundings; a friendly, curious, confident cat with strength, agility, balance and grace. It is a medium to large cat which exhibits a very muscular and solid build. If this is what you are looking for, a Bengal is a good choice.

Life is short, play with your cat.
Current Temperature 39.9°F